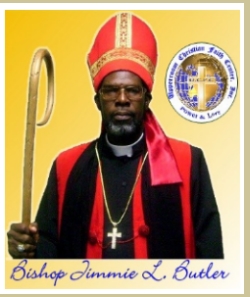 Bishop Jimmie L. Butler, was born in Pompano Beach, FL and raised in Fort Lauderdale, FL, by a God-Fearing woman Lillie Wilson, who received this charge, when given up by his biological mother.
He graduated from Stranahan High School, attended Miami Dade-North on a track & field Scholarship, then transferred to St. Augustines College (Raleigh,NC) and earned his Bachelorís Degree in Health & Physical Education.
Bishop Butler taught school at Pines Middle School (coached girls basketball), and worked for the Broward County Library system for 7 years where he began as a Library Assistant before taking on the responsibilities for day to day operation of the Carver Ranches (Hollywood) and Collier City (Pompano Beach) respectively.
Bishop accepted Jesus Christ as his personal savior at the age of 9, served as Jr. Deacon, Sunday School Secretary, and Youth Usher Board President. He married his high school sweetheart in 1976, Lady Althea Butler, together they have 4 children and 5 grandchildren.
He rededicated his life to Jesus Christ and in 1983 was ordained a deacon in the Highway Churches of Christ, under Dr. W.L. Mitchell. In 1985 served as Assistant Pastor under James Lafavor. In 1985 licensed and ordained an Elder under the late Bishop C. Brown of the St. John Church of God, Apostolic in Jesus Name. Bishop received and accepted his calling to Pastor and Upperroom was birthed and held their first service watch-night in 1985.
The Upperroom Christian Academy, K-12th grade, began in 1992 with 11 students and has graduated 11 classes. In the process Bishop Butler has received numerous awards in coaching boys and girls, who later earn scholarships to colleges and universities across the country. He has recently been appointed to serve on the section 4 appeals committee, which evaluates hardships cases for student's eligibility for athletics under the Florida High School Athletic Association (FHSAA).
Bishop Butler believes in Empowering Believers for the Purpose of the Kingdom of God.